Four Attitudes and Actions to Overcome Hoarding
Gary had a problem. He was a hoarder.*
You see, Gary was a US letter carrier who was caught by a customer in the act of stashing 1500 pieces of mail behind a dumpster. When confronted, he had all kinds of excuses that he described as legitimate reasons for his actions. "I have health challenges that keep me from getting the mail delivered. Management puts excessive demands on me and I can't get all the mail delivered by the 5 p.m. deadline as expected."
Gary told the authorities that he fully intended to retrieve the stash and deliver it later, but later never came. Upon further digging, the Postal Service found two dump truck loads of unsalvageable mail in his shed going back several years. Gary plead guilty to unlawfully destroying, detaining and delaying US mail – which comes with a maximum penalty of five years in prison and a $250,000 fine.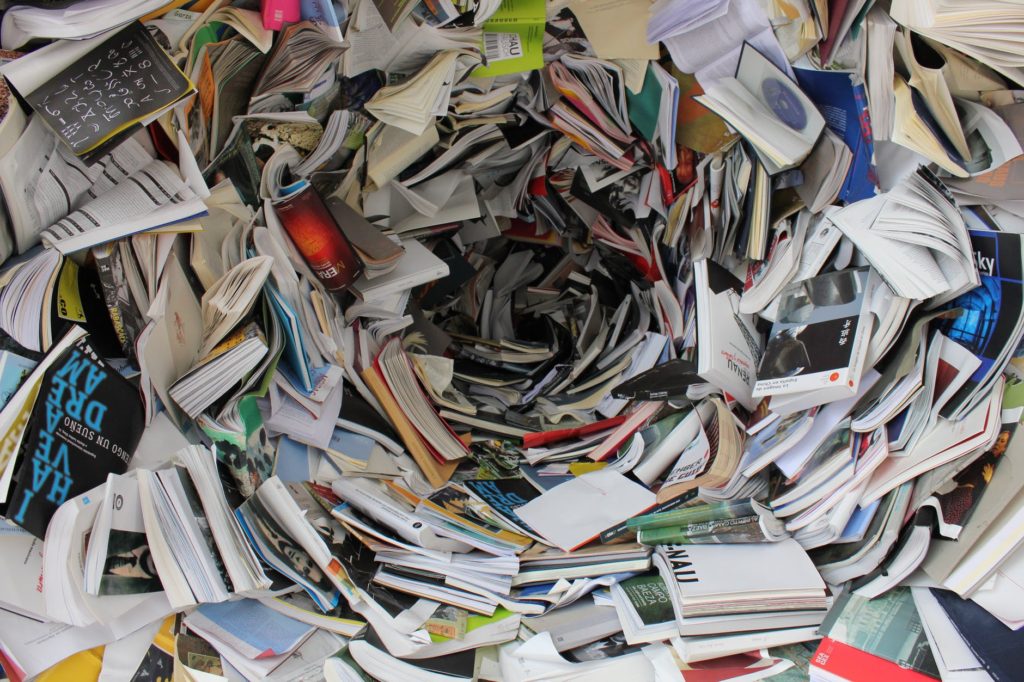 Like Gary, each of us has been given a bag of mail to deliver daily. The bag comes in different shapes and sizes depending on who we are.
In your bag of mail to deliver you have a variety of packages:
Time
Experience
Help
Words
Life experience
Money
Your presence
Wisdom
Expertise
A listening ear
Empathy
A hug
Gratitude
Valuable feedback
The problem is, issues get in our way. Like Gary, we have health challenges or excessive demands that paralyze us from delivering the mail. I've had them both and used them as an excuse for not getting my mail delivered.
The key is to stop beating ourselves up and focus on what works.
Four attitudes and actions that will help you deliver your mail
1. Admit you have a problem (when you see hoarding taking place) and admit it to someone other than yourself.
Three weeks ago I started meeting with two other letter carriers (friends who, like me, are wanting to do make a difference with their lives). We tell each other what we're committed to doing and report on our progress from the previous week. Already, I'm seeing less hoarding and more mail delivered!
2. Adjust your expectations in light of your limitations.
You can't do everything but you can do something. Don't focus on your limitations. See them, accept them, but focus on what you have to give. This week I told my story of how I became a writer to a group of other writers.
My message was, "I never thought I'd be a writer but then God sat me down in a recliner for 5000 hours, gave me a new purpose, and showed me what I could do without walking." I've published two books and am working on my third.
3. Adapt your mindset and wake up believing you can deliver.  
Henry Ford said, "Whether you think you can, or you think you can't — you're right." Your mindset is a powerful engine that helps you walk and keep walking when tempted to quit.
I've been reading over a list of "Words to Live By" every morning when I get up. They fire me up and strengthen my mindset for mail delivery. Words like, "I am joy-filled, hope-full, and faith-focused." "Neither my failures nor my successes define me." "I am a loyal friend who inspires others."
4. Advance into the places where you can make the greatest impact.
Thought without action isn't worth much. Stephen Covey said, "To know and not to do is really not to know." I'm grateful for the people who are helping me advance and confront my excuses to not delivering the mail. I have coffee every week with a friend who supports me to keep my inside world right so I can keep delivering the mail.
What mail have you been asked to deliver?
Are there any signs of hoarding in your life?
What can you do today to keep growing and going on your route?
*Source: Citizen-Times, Feb, 2017
If you haven't bought a copy of "Detour: A Roadmap For When Life Gets Rerouted," click here to find out where you can get your copy.
7-day Resiliency Training!
Sign-up now for my 7-day email course - "7 Habits of Highly Resilient People."
You get the course plus weekly inspiration for tenacious living!

About Cam Taylor
Life and leadership coach, transition & change specialist, husband, dad, leader, writer, life long learner.