Kids Tell What Love Is
Love is one of those words that means different things to different people. One of the places I look for inspiration on how to think simply about love is to listen to what children have to say.
The following statements on what love is come from children age 4-8 and create a spring board to help us put the intention to love into practice. May they bring a smile and inspire you to act.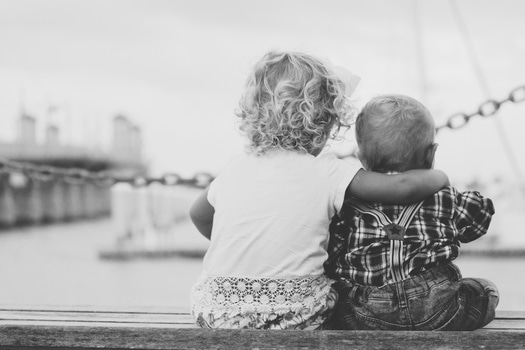 What Does Love Mean?
When my grandmother got arthritis, she couldn't bend over and paint her toenails anymore. So my grandfather does it for her all the time, even when his hands got arthritis too. That's love.
Rebecca, age 8
When someone loves you, the way they say your name is different. You know that your name is safe in their mouth.
Billy, age 4
Love is when you go out to eat and give somebody most of your French fries without making them give you any of theirs.
Chrissy, age 6
Love is what makes you smile when you're tired.
Terri, age 4
Love is what's in the room with you at Christmas if you stop opening presents and listen.
Bobby, age 5
If you want to learn to love better, you should start with a friend whom you hate.
Nikka, age 6
There are two kinds of love. Our love and God's love. God makes both kinds.
Jenny, age 4
Love is when mommy sees daddy smelly and sweaty and still says he is handsomer than Robert Redford.
Chris, age 8
Love is when your puppy licks your face even after you left him alone all day.
Mary Ann, age 4
I know my older sister loves me because she gives me all her old clothes and has to go out and buy new ones.
Lauren, age 4
You really shouldn't say "I love you" unless you mean it. But if you mean it, you should say it a lot. People forget.
Jessica, age 8
Today, find those people in your life who need to hear you say or show "I love you."
Make it unique for you. Make it a daily habit.
Why? Because people forget.
Hi! I'm Cam Taylor
I help you live an inspired, focused and tenacious life.
If you subscribe to my email list, I will automatically send you the ebook "Top 10 Secrets for Living an Inspired Life."
About Cam Taylor
Life and leadership coach, transition & change specialist, husband, dad, leader, writer, life long learner.